Fairspin is one of the best online casinos that operate on blockchain technology. Its primary distinguishing feature from other projects is its own cryptocurrency token, TFS. Thanks to this token, you can earn money together with Fairspin Casino. We will tell you more about how to do it in the review. Meanwhile, we would like to focus on Fairspin no deposit bonus, which is given in the form of 200 TFS.
Discover FairSpin No Deposit Bonus
Fairspin Casino is unique in the sphere of no deposit bonuses. It gives new players its cryptocurrency token for sign-up. Once the TFS token is in your account, you can convert it to real money with no wagering requirements, or you can put it on hold and earn with the casino. Let's first understand how new players can get Fairspin no deposit bonus in the form of 200 TFS tokens.
Promo code
Wager
Bonus
Max Bet

Promo Code:

Not required

Wager:

x0

Bonus:

200 TFS

Max Bet:

No limit
*Restricted countries: Aruba, Australia, Belgium, Bonaire, Bulgaria, Colombia, Croatia, Curaçao, Czech Republic, Democratic People's Republic of Korea (DPRK), Denmark, Estonia, France, Georgia, Germany, Islamic Republic of Iran, Italy, Latvia, Lithuania, Mexico, Portugal, Romania, Singapore, Spain, St. Maarten, Sweden, Switzerland, the Netherlands, the United Kingdom, the United States of America and Ukraine.
To get a no deposit bonus from Fairspin, you do not need to specify a promo code when registering. All you have to do is follow the link from this website and complete a few simple steps, which we'll tell you about below.
How To Get Fairspin No Deposit Bonus
We have written simple instructions for new Fairspin players. To get a guaranteed no deposit bonus, you need to follow a few simple steps:
Visit the official website of Fairspin Casino using our link.
Complete the short registration process on the website.
Go to the "Identity verification" section of your account.
Follow the instructions to download the necessary documents to pass the KYC.
Once your identity is verified, you will receive 200 TFS. You can find this gift in the TFS widget. To get to the widget page, click on the TFS Token menu item in the left sidebar. It's time to get closer to TFS and understand how they can be used effectively.
What is TFS, and how to use it?
TFS is a cryptocurrency token developed by the Fairspin Casino team. This asset can be used in different ways. First, the player can exchange TFS tokens for real money, which will be credited to his account at the casino. Second, you can put your tokens on hold, earning a percentage of the casino's income. And finally, you can withdraw your token to your cryptocurrency wallet using ETH and BSC networks.
There are several ways in which you can get TFS. The easiest way is to fund your casino account and use a widget to exchange money from your account for TFS tokens. You can also purchase TFS coins using DeFi exchanges like Pancake and Uniswap. The third way to get tokens is by playing casino games. You are credited with TFS tokens in your widget account when you bet in slots for real money. This is a kind of instant cashback for each spin.
The most exciting and promising way to earn TFS tokens is through holding. We want to talk more about this method.
How to earn TFS using "Hold to Earn"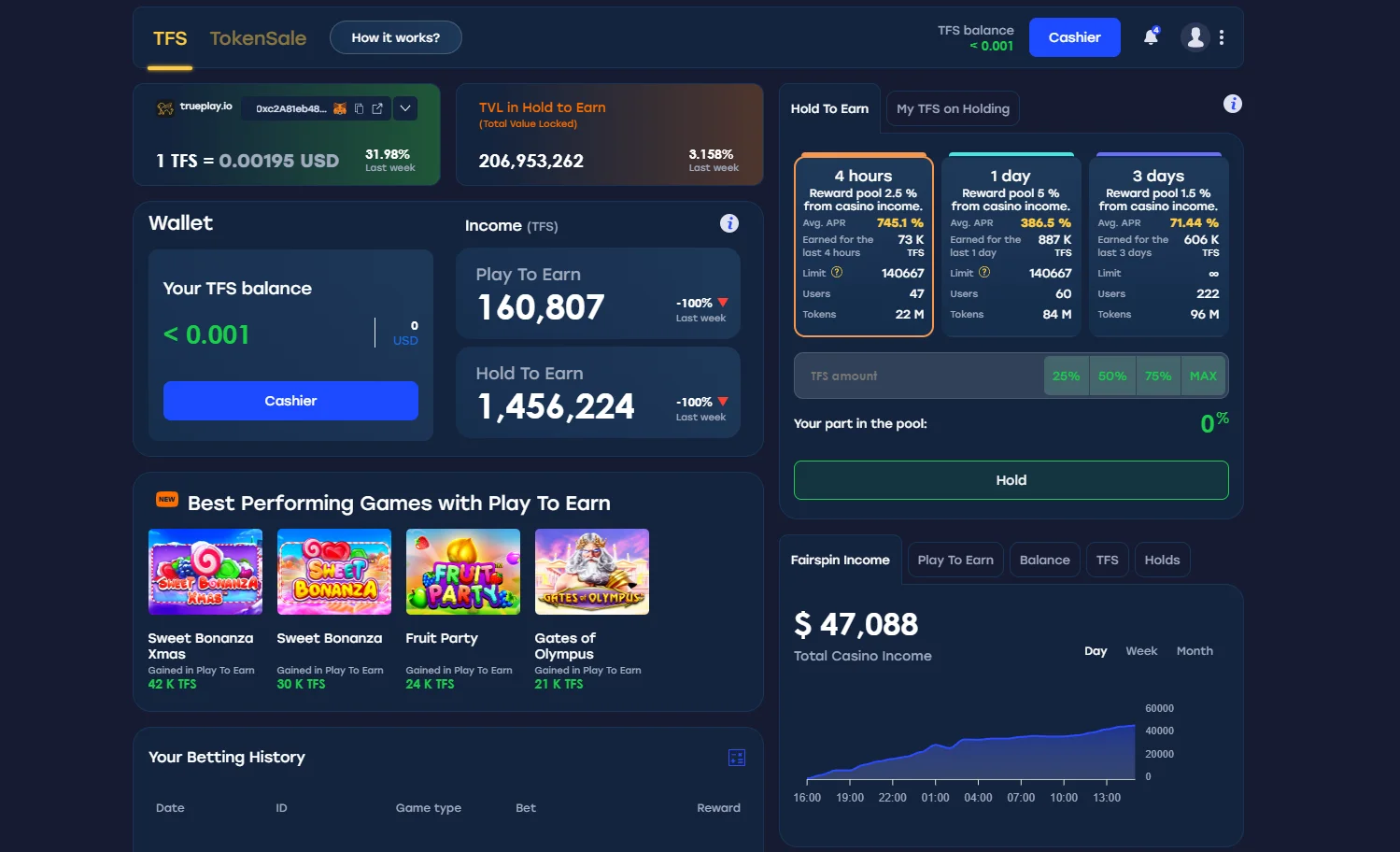 We already said that Fairspin is an outstanding casino. It has not only already surpassed its competitors in many ways, but also allows its players to earn with the casino. If you look closely at the TFS token widget, you will see a Hold to Earn section.
You can "freeze" your tokens for 4 hours, 1 day or 3 days. As long as your assets are frozen, you will not be able to exchange them for money or withdraw them from your account. But as a reward, you will receive a part of the casino's income. The reward for the 4-hour pool is 2.5% of the casino's income. Assets left for a day get 5% of income, and a three-day hold allows you to earn 1.5%.
Let's look at a small example. Let's say you left 1,000,000 TFS tokens on hold for one day. A total of 50 million tokens were left in the pool. So, your share is 2% of the pool. During the last 24 hours, Fairspin Casino received revenue of $20,000. From this amount, 5% is divided between the pool participants. That share is $1,000, of which you will receive $20.
Payment is made in the form of TFS tokens at the rate shown in the widget. You can immediately exchange TFS tokens for real money and withdraw them to your e-wallet. The minimum amount of exchange is 1TFS.
Conclusion
Our team is actively using the TFS token widget to make extra money. As our experience shows, by holding your assets at the Fairspin website, you can get 0.5-1% daily dividends. This is considered extremely high in the cryptocurrency industry. Of course, 200 TFS is not the amount you can play slots or make money in the hold. But thanks to this asset, you can figure out the widget and start earning with the casino. Also check the article about Fairspin Casino's exclusive deposit bonus.